Adolescents - Thesis Film
Adolescents

is a short film observing the effect of an offscreen tragedy on the relationship between

Deborah (

Jessica G. Smith

), and her son Alex (

Miles G. Jackson

) on two intersecting days seven years apart.

The same actors are portraying each incarnation of their characters without the use of makeup to have them appear older or younger. This aesthetic choice allows the characters to visually embody their emotional age (as opposed to physical age), in this case representing a state of adolescence.

Combining a realist cinematographic style with a Brechtian dramaturgical presentation,

Adolescents

is a unique exploration of our formative years, our continuing adolescence.
The film was shot entirely on location in the towns of South Wales, Elma, and East Aurora, New York. The local paper, the East Aurora Advertiser, featured a story about the production, which be read

here

.

Credits:

Deborah -

Jessica G. Smith

Alex -

Miles G. Jackson

Assistant Director, Producer -

Dorian Carli-Jones

Sound Recordist - Tom Flynn

Caterer, Producer - Leisa Buccieri

Writer, Director, Cinematographer, Producer, Editor -

Tyler Byrnes
Powered by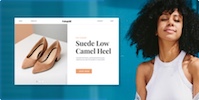 Create your own unique website with customizable templates.