Press:
"Byrnes landed as a finalist in the film festival with five-minute film called
Missed
about a woman painting over wallpaper fitting for a newborns room telling the story of a couple who experienced the toll of a miscarriage. "Sometimes things get in the way, sometimes you can't complete them," surmised Byrnes. Given his submission, it was clear that months of effort had been dedicated towards the delicate details such as lighting, directing, and content."
-The Banner Newspaper [
article
]
"While Byrnes said he considers the scenarios in [
Adolescents
] similar to ones he's experienced, he gave the actors authorship over their characters, which allowed them to craft their own interpretations.
Miles G. Jackson, who plays the son, Alex, in the film, said it was interesting to shoot something autobiographical. "There is a sort of fragility there; while the specific circumstances are Tyler's, I have those too," Jackson said.
Byrnes said he used the same actors to portray their characters at two very different ages, to create visual representations of their emotional ages after they endure a tragedy. "Alex must grow up to deal with the complexity of the situation, while Deborah (the mother) is pulled back into an uncertain age, her support structures crumbled before her," he said.
-The East Aurora Advertiser [
article
]
Powered by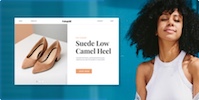 Create your own unique website with customizable templates.